During one of Campbell's recent Manager's Meetings we had our managers break into small groups and discuss some important "How to" topics in property management. One of those topics was "How to Run an Effective Board Meeting." Below is a synopsis of the prevailing opinions of our best managers.
This will be an ongoing series, where we share best practices, as defined by our Campbell Managers, who average over 12 years' experience in property management.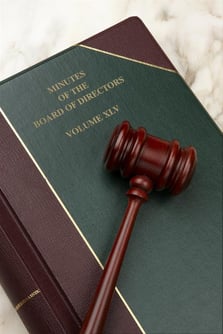 Here is what they told us about how to run an effective board meeting:
1. Preparation. Make sure board packages are sent out well in advance, so that Directors and Officers will have ample time to review. Make sure that your Board has a full understanding of the issues being discussed and that they are able to clearly articulate their position. If this is not the case, then the issue should not be on the agenda. A brief discussion between the Meeting Chair and the Property Manager before the meeting can make for a much smoother meeting as well.
2. Have the right equipment. If the size of the meeting requires microphones, make sure they are available. If Board Members are teleconferencing in or joining via video, make sure you are ready. If complex material is being presented, consider using a projector to display information. Other equipment to consider is a wireless / battery powered speakerphone that can connect to your cell phone – click here and a portable, battery power speaker system if you have a big crowd – click here.
3. Establish time limits. Board members, committee chairs and members should all have time limits when they speak. This will help move things along and avoid excessively long meetings.
4. Declare the ground rules. Before the meeting starts, the Meeting Chair should remind everyone regarding the purpose of the meeting and when and how attendees can participate. The Chair should consider using a gavel, in lieu of raising their voice to maintain order.
5. Follow the agenda. Make sure to stay on topic. Board meetings are not designed for brainstorming. Here is a post on drafting an agenda.
6. Let members speak. Although you may not be required to let them speak. It is always a good idea to let members be heard. Members should be required to sign-up to speak as they enter the meeting and their time should be limited, typically two minutes per topic. If a key issue has drawn members to the meeting, you should consider putting that on the agenda early. Members should be allowed to speak on a topic BEFORE it is voted on. Requiring members to wait until after the vote to speak is like rubbing salt in a wound. Consider using an open forum for owners at the end as well – again, with time limits. If you don't let them speak, you could end up with Recreational Dissidents – see this post for more information.
7. Robert's Rules within Reason. The Board should generally follow Robert's Rules as a guide, to ensure a smooth meeting. But don't get caught up in the details. Not everything is relevant and some of what you read might be contrary to your documents. Here is a good article on the topic.
8. Don't Criticize, Condemn or Complain. It is always a good idea to try and win friends and influence people, especially when they are your neighbors AND shareholders – borrowed from Dale Carnegie. Click here for more tips on getting board members to get along.
9. Minutes are not transcripts. Limit your minutes to document motions, votes, key decisions and action items. Who said what and where should not be in the minutes. Check out this post for meeting minute guidelines.
I hope you learned something from this. It was compiled from a group of Campbell Managers with almost a millennium of experience in property management. This is some wisdom we felt we really needed to share.
Please click the play button below to watch "9 Steps to an Effective Board Meeting by Campbell Property Management."