Worried over how to prevent COVID-19 in condos and HOAs?The unprecedented Coronavirus pandemic requires the utmost effort to stay safe and avoid risk of infection. While you stay indoors and minimize your interaction with outsiders, regular disinfecting, and cleaning of condos and HOA common areas is key to eliminate the contamination threat.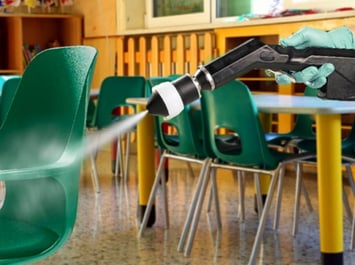 I talked to Mike Scalera from Stanley Steemer, a leading cleaning service provider about the strategy they utilize to clean after a building has a positive case and to prevent COVID-19 in condos and HOAs.
Stanley Steemer utilizes electrostatic technology to clean and prevent Coronavirus in buildings. Their electrostatic sprayer dispenses an EPA approved disinfectant solution that comes out as a positively charged particle, which attaches itself to whatever item it is pointed at. This technology is great to spray entire rooms and buildings because it is a more thorough cleaning process, covering virtually the entire space. The solution is also extremely safe and has a toxicity level equal to that of water.
Click here to watch a video that explains the process.
They also wipe down any high touch points and high traffic areas including:
Entryways, doors, windows, garages
The front desk
Elevators and stairways, their surface, call buttons, railings, doors from both sides, handles, and stairwells
Mailrooms that have become trading points for online purchases
Laundry facilities, including equipment
Staff facilities, including their tables, chairs, monitors, cupboards, etc.
The price for cleaning varies based on if the cleaning is preventative OR if there is an active COVID-19 case in the building. If a cleaning is required because the building had someone test positive, they charge $.40 per square foot. If it is a preventative cleaning, they charge $.20 per square foot.
Effective cleaning and disinfecting are vital to prevent COVID-19 in Condos and HOAs. Unfortunately, Campbell has had to deal with some instances where a board member, owner, staff member or contractor tested positive after having been present in common areas, like the elevator, conference room, hallway or front desk reception area. We were able to call Mike at Stanley Steemer and every time he was able to mobilize a crew that was onsite within a few hours, giving peace of mind to the owners in the building.
Mike Scalera from Stanley Steemer can be reached at mike.scalera@steemerusa.com or (561) 921-6008.
Ashley Dietz Gray, VP Marketing
I graduated Summa Cum Laude from Florida Atlantic University in 2010 with my BA in Communications. Upon graduating, I honed my skills in the field by working as a Media Assistant at WPBF-25 and at ESPN760. I began working at City County Credit Union in 2011 as the Marketing Coordinator. Currently, I handle the marketing at Campbell Property Management.