Randy W. Skiles is the President of Ocean's Edge Condominium Association, a beach front, hi-rise condo community with 40 units located in Singer Island, Florida. Originally from Oklahoma, Randy and his wife Nancy (originally from New York) lived in Ohio, where they raised their children before moving to Florida. In 2001, Randy and his wife built a home in Mirasol in Palm Beach Gardens, where they lived for 12 years. Last year, they moved to Ocean's Edge because they both love being near the water.
Randy is a true entrepreneur; he has founded, built and sold 28 businesses, mostly in the medical arena. He retired for five months, but got bored. So, besides being the President of Ocean's Edge, he still has three businesses: a software development company, a medical waste business and he is the Chairman of the Board of a Hollywood Movie Studio. He has received numerous business awards, including "Entrepreneur of the Year" from Ernst & Young in 2004.
Randy became involved with the Ocean's Edge Board in January of this year, when he was elected as President. "I believe in getting involved with your community, especially your condo or HOA. This is where you reside, you should be involved with the decisions made," said Randy.
This past week, I had the pleasure of sitting down with Randy and discussing his experiences working as the President of Ocean's Edge:
Ashley: What do you like most about being on the Board?
Randy: I love our Board! We have such a great group of people, including the staff. I could not have asked for a better team. It is really nice to have a group of accomplished business people serving on our Board. No one person has it all, or can do it all. Each of our Board Members brings something to the table. Our Board is very open-minded and we discuss every decision as a team. This has really allowed us to accomplish quite a bit for the community; we have already completed 50+ projects. We have also started our turnover from Toll, and we are getting ready to start painting our building.
Ashley: What has been your proudest accomplishment during your time on the Board?
Randy: I think our proudest accomplishment as a Board is the Easement Project. The past storms of 2007, 2009 and 2012 drastically eroded our beach. In the past, we have been forced to institute special assessments in order to restore the dunes that were washed away. Not wishing to incur future special assessments to fix the dunes, we spent three months meeting with city and county officials to determine how Ocean's Edge could be a part of the 50 year dune restoration project for Singer Island. We granted an easement that allowed the county to access Zone 4, which will provide dune restoration without cost to our owners.
Ashley: What piece of advice would you share with other Board Members?
Randy: You need to have full disclosure with your owners about what is going on. Providing the residents with full knowledge will help keep the rumor mill at bay. We list all our projects (upcoming and completed) in our newsletters. I also recommend making sure the staff is a part of all of your community's projects. The staff brings expert opinions and can really help with the decision process.
In his spare time, he works with the Bureau of Indian Affairs, working to enhance the quality of life for the Native American population. He also enjoys travelling, boating, softball and golf. Randy and his wife Nancy have two daughters: Lindsay and Ashley and two grandchildren: Brooklyn and Brody. He and wife, Nancy recently celebrated 33 years of marriage.
Ocean's Edge has been managed by Michelle Bank of Campbell Property Management since 2009.
"Randy has completely dedicated himself to every aspect of running Ocean's Edge successfully. He is the true meaning of a Board President as he considers the best interest of all homeowners before acting on any decision. He fulfills this "full-time" job effortlessly, and the team and I really enjoy working with him. I really appreciate his tremendous effort," said Michelle.
"Meet the Director" is an ongoing series where we recognize an outstanding Director from a community association in South Florida.

Serving on the Board of a Community Association is a challenging and often thankless job. There are thousands of dedicated volunteers in South Florida that have stepped up to lead their communities and we hope this series serves as a reminder to us all – to thank those that have invested their time and energy to make their communities a better place to live.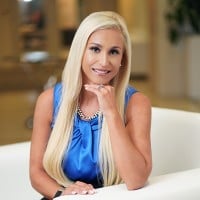 Ashley Dietz Gray, VP Marketing
I graduated Summa Cum Laude from Florida Atlantic University in 2010 with my BA in Communications. Upon graduating, I honed my skills in the field by working as a Media Assistant at WPBF-25 and at ESPN760. I began working at City County Credit Union in 2011 as the Marketing Coordinator. Currently, I handle the marketing at Campbell Property Management.