Bruce Weinstein is the President of the POA Board at Frenchman's Reserve Country Club, a lavish, gated golf course community in Palm Beach Gardens, Florida. Originally from Connecticut, Bruce attended Yale University and was a member of their football team, the Yale Bulldogs. After graduating in 1969, he worked various jobs in New Jersey, Connecticut and New York before he eventually moved to Florida in the 1990's. Today, Bruce spends five months out of the year in Connecticut and enjoys spending time with his wife of 37 years, Kathleen, and their daughter Livia and son Robert.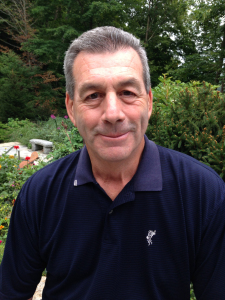 While living at Frenchman's Reserve, Bruce wanted to assist setting up procedures for his community to make sure the community was on good footing. Bruce has served as a Director for the past four years and was elected President of the Board in April of this year.
Bruce has retired from working in healthcare and real estate and enjoys playing golf and attending exotic car auctions. He also enjoys driving various automobiles, especially his Corvettes.
This past week, I sat down with Bruce to discuss his experiences working as the President of Frenchman's Reserve:
Ashley: What was the craziest experience you've had on the Board since being elected President?
Bruce: The Board was interested in eliminating a non-functioning gatehouse on the Frenchman's Reserve property. It was a secondary gatehouse inside the community. The gatehouse was never activated and some residents thought it was an eyesore, so the Board decided to look into taking it down. What was surprising about the situation was that the residents thought the Board wanted to activate the gatehouse, when in actuality we wanted to take it down. We [the Board] were also surprised at how many residents actually wanted to activate the gatehouse. We are going to vote on this issue in the fall.
Ashley: Budgeting season is right around the corner. Do you have any tips on how to handle budgeting that has been helpful to your community?
Bruce: Budgeting season is the easiest way to get residents to attend meetings and vote on any issues. Everyone wants to be involved when it comes to spending money. We send our budget out in advance of the meetings so that residents can review it. At the meetings, the Board Treasurer will do most of the work when it comes to answering residents' questions. We also work with our Campbell Regional Manager, Brian Tight on the budget. We believe strongly in having a reserve study done. A reserve study is vital to the success of the community because if something major comes up that is either planned or unplanned, you're set to go. If an unexpected emergency happens and you don't have some unallocated reserve funds, you have a huge issue.
Ashley: What piece of advice would you share with other Board members or those who may be interested in joining?
Bruce: I think it is extremely important for homeowners to serve on the Board in their community, as long as time permits. It's a very satisfying experience, and allows for residents to give their input. Joining the Board isn't a popularity contest. We need people on the Board who are willing to roll up their sleeves and people who are willing to work towards the betterment of the community.
Ashley: Has the Board at Frenchman's Reserve been able to cut any costs as of late?
Bruce: With Brian Tight's help we negotiated a new Comcast contract that allowed us to get more equipment and resources for less money. We've also taken on a project as a POA, which is painting all of the resident's mailboxes, rather than advising them to do so themselves.
Frenchman's Reserve has been managed by Campbell Property Management for 12 years.
"Bruce is thoughtful, intelligent and very involved in doing what is right for the community. He always places the greater good of the residents first and wants what is best for the community as a whole," said Brian Tight.
"Meet the Director" is an ongoing series where we recognize an outstanding Director from a community association in South Florida.
Serving on the Board of a Community Association is a challenging and often thankless job. There are thousands of dedicated volunteers in South Florida that have stepped up to lead their communities and we hope this series serves as a reminder to us all – to thank those that have invested their time and energy to make their communities a better place to live.
Ashley Dietz Gray, VP Marketing
I graduated Summa Cum Laude from Florida Atlantic University in 2010 with my BA in Communications. Upon graduating, I honed my skills in the field by working as a Media Assistant at WPBF-25 and at ESPN760. I began working at City County Credit Union in 2011 as the Marketing Coordinator. Currently, I handle the marketing at Campbell Property Management.