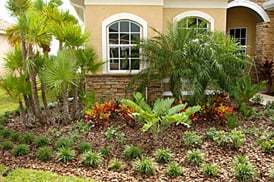 Now that spring is approaching, gardening and landscaping are back on most people's minds. In this temperate time of year, gardens start to come to life thanks to the number of warm-season crops that can be grown at our sunny Florida homes. Here are some tips to help you prepare your outdoor home for gorgeous landscaping:
• Get your irrigation fully operational- This time of year, the rain usually slows down and we have hot and humid weather. Irrigation is very important, as it will help the lawn to stay cool and resistant to some of the sun's heat.
• Use mulch- Mulch helps to distribute water among your plants and is a great way to prevent weeds from growing.
• Create a focal point- Using one décor item to draw the viewer's gaze, like a small statue or uniquely colored plant can help to bring your landscaping together and create a more beautiful composition.
• Add movement- Adding plants that blow in the breeze like ornamental grass or flowers will help to draw in birds and butterflies.
• Accent your home- Don't just let plants overgrow and take over your lawn; trim and maintain your plants. Use them to soften the edges of your home and blend in with the surroundings to have the maximum effect in beautifying your landscaping.
The key to great landscaping is planning. Springtime is a great time for planting and embracing a landscape project for your home's exterior, it just takes proper maintenance.