Tom Comparato is the President of Pines of Delray West, a condo association of 288 units in Delray Beach, Florida. Tom graduated from MIT in 1956 with a degree in engineering and worked in the aerospace industry and for the Federal Department of Transportation as an engineering manager before retiring. He and his wife, Josephine purchased their home in Pines of Delray West in 2001, and made it their permanent residence in 2014, moving from Andover, Massachusetts. Tom has 5 children and 11 grandchildren, whom he and Josephine visit frequently up north. In his spare time, Tom loves to volunteer and contribute to his community. Volunteering has been a passion of his for over 55 years, during which time he has been involved with town boards/committees, charities, youth activities/sports and church groups. Tom truly likes to get involved in his community and make a difference! He has served on the Board for Pines of Delray West since 2006, serving as the Vice President and Secretary before becoming President in 2011.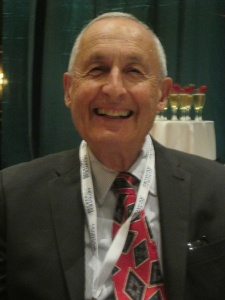 This past week, I sat down with Tom to discuss his experiences working as the President of Pines of Delray West.
Ashley: What do you like most about being on the board?
Tom: I love to get things done; I am a doer, so being on the board was a natural thing for me to do. My favorite thing about being on the board at Pines of Delray West is working with the other board members and the residents as a team. I love being involved because all of us at this condo feel like a family, and we work together and make decisions as a team.
Ashley: What has been your proudest accomplishment during your time on the board?
Tom: My proudest accomplishment has been getting so many residents involved in the community. We have 14 active committees, including a Social, Finance, Landscaping, Building, Communications, Welcoming and so many other committees. I love that we have been able to get the residents invested in our community. Residents interact with one another and are all really involved; it truly feels like a family here. Plus, the volunteers all feel proud that they have contributed to our community.
Ashley: What are some things you have done to improve the community as a whole?
Tom: Over the last 5 years, we made serious adjustments to the financials for the community. We've stabilized the community's finances, installed accounting plans and a balanced budget and hired a great property manager, Teri, who helps us to really monitor our spending and control costs.
We have also worked at establishing trust in the board by working transparently and communicating everything with the residents. Good communication has become key for us. We recognized that communications is the "hub" for activity and harmony at the Pines. Our philosophy is that good, informative, frequent and responsive communication conducted in a transparent manner establishes trust and good will for the community. As part of our effort to get residents more involved in the Pines of Delray West community, and to improve communications among the members, the board established a Communications Committee in 2011. The intent of the committee is to develop, suggest and execute ways of improving communications within the community. We have employed several methods to keep our residents informed, including: Channel 63, bulletin boards, our monthly newsletter, telephone blasts, emails, designated building captains, meeting handouts, Welcoming Committee, suggestion box, website and social media. We've found that it is essential in any community like the Pines to have residents feel they have direct access to those in charge to voice their opinions, complaints and/or ideas. Teri, our property manager also implemented an open door policy, when she came on board 4 years ago. This policy has been a major element in making our community more open and transparent.
Ashley: You won a Community of Excellence Award last year for Financial Innovation, and you are a finalist this year for Communications & Community. What made you decide to become involved with these awards and enter your community?
Tom: I loved the idea of having our community recognized. I thought entering the awards would be a great way for all of our volunteers to be acknowledged for their hard work. After, attending the gala last year, which was very well done, we knew we had to enter this year again. It also really brought our community together, creating a real sense of harmony and unity.
Ashley: What advice would you share with other board members?
Tom: Board members should always work as a team where each has a known responsibility and can communicate with each other respectfully and factually. You have an obligation to speak factually all the time. Board members should have their facts straight at all times. You have an obligation when you serve on the board to know what is going on at all times and to translate that to the members in a transparent way.
Pines of Delray West has been managed by Campbell Property Management since 2007, and Teri Fifth has been the Property Manager for the past 4 years.
"Tom is a firm believer that you need to come together and work together in order to succeed. This mentality has truly benefitted Pines of Delray West. Tom has been a wonderful President and we are lucky to have him," said Teri.
"Meet the Director" is an ongoing series where we recognize an outstanding Director from a community association in South Florida.
Serving on the Board of a Community Association is a challenging and often thankless job. There are thousands of dedicated volunteers in South Florida that have stepped up to lead their communities and we hope this series serves as a reminder to us all – to thank those that have invested their time and energy to make their communities a better place to live.
Ashley Dietz Gray, VP Marketing
I graduated Summa Cum Laude from Florida Atlantic University in 2010 with my BA in Communications. Upon graduating, I honed my skills in the field by working as a Media Assistant at WPBF-25 and at ESPN760. I began working at City County Credit Union in 2011 as the Marketing Coordinator. Currently, I handle the marketing at Campbell Property Management.