Robert Fishman is the President of the Beach Front Condominium Association, which includes 59 units in Singer Island, Florida. Originally from Boston, Robert attended Harvard University and received his master's degree in public policy. Before moving to Florida, Robert worked as a uniform manufacturer for many years. He has been on Beach Front's board for five years and has served as president for three of them.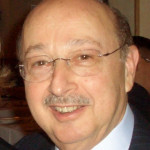 Robert has been married to his wife, Roberta for 52 years. He enjoys skiing, playing tennis and spending time with his three children and four grandchildren. Robert enjoys being on the Beach Front board, where he is able to work with a group of individuals who only want the best for the community.
This past week, I sat down with Robert to discuss his experiences working as the President of the Beach Front Condominium Association:
Ashley: What has been your proudest accomplishment during your time on the board?
Robert: I am most proud of the fact that the 2013 Board of Directors and I were able to end a six year long 558 battle against the developer/builder. There were over 350 items listed as deficiencies on a professional engineering report and we were able to see each negotiated item to its end, making our building whole. Many of these items were large scale projects like the re-engineering of our pool's infinity edge and repairing the building's life safety system. Another proud accomplishment I have is the overhaul of our security system. We completely changed the system, bringing it up-to-date. The security system update included adding a few new cameras, bringing us to a total of 42.
Ashley: Hurricane season started on June 1. How do you prepare for this time of year? Do you have any tips for other communities getting ready?
Robert: We have a checklist that we go over before the season starts which helps us to make sure that we are well prepared. The checklist includes making sure we are well stocked with hurricane supplies, making sure that the residents and management team have all the important contact information they might need and reviewing our emergency plan. I would recommend having the maintenance team walk the community to make sure there is nothing that could become a safety hazard in strong winds. Also, a review of your insurance policies before the season starts is always recommended.
Ashley: Do you have any committees? How do you keep your committees effective?
Robert: We have a social committee and a grievance committee. Our committees give residents a chance to work together toward a common goal. Each committee only has a few individuals which makes the decision process much simpler. Additionally, the committee members must be qualified to serve on their designated committee.
Ashley: Have you had any large projects during your time on the board? Do you have any tips for handling these projects in a community?
Robert: We just completed the exterior painting of our building and the painting of our 40,000 sq. ft. parking garage, which was done in-house. We also added a water purification system, completed a major roof repair and gave our lobby a new, more modern look. There are always going to be projects that increase the overall value of the building, in addition to everyday repairs. But above all, the safety of the community comes first. It is also much easier to complete these projects when you have support from the residents, which thankfully, we do. Everyone appreciates that the Board of Directors works hard to protect and maintain their investment.
The Beachfront Condominium Association has been managed by Michelle Bank of Campbell Property management for over 7 years.
"It has been an honor working with Mr. Fishman over the past years. He is an extremely dedicated, fair and consistent Board President. His business and financial expertise have taken this association to the most successful position the building has been in since turnover. My team and I have learned much from him and with his direction and support, we have completed some amazing tasks in-house; our beautiful building looks better than ever," said Michelle.
"Meet the Director" is an ongoing series where we recognize an outstanding Director from a community association in South Florida.
Serving on the Board of a Community Association is a challenging and often thankless job. There are thousands of dedicated volunteers in South Florida that have stepped up to lead their communities and we hope this series serves as a reminder to us all – to thank those that have invested their time and energy to make their communities a better place to live.
Ashley Dietz Gray, VP Marketing
I graduated Summa Cum Laude from Florida Atlantic University in 2010 with my BA in Communications. Upon graduating, I honed my skills in the field by working as a Media Assistant at WPBF-25 and at ESPN760. I began working at City County Credit Union in 2011 as the Marketing Coordinator. Currently, I handle the marketing at Campbell Property Management.