The Urban Mobile Irrigation Lab is a resource available to residential associations in Palm Beach County. Sponsored by the Palm Beach Soil and Water Conservation District (PBSWCD), the lab can perform irrigation evaluations within communities to help reduce potable water use and leaching of fertilizers on urban land. In addition, the PBSWCD strives to educate residents on ways to protect our natural resources, promote best management practices and conserve, improve and sustain the environment.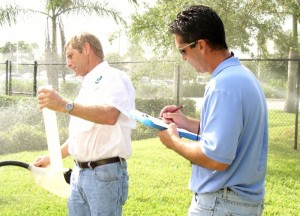 The irrigation evaluation begins with on-site observations and measurements of the irrigation system. The information collected is analyzed to identify potential problems with the system design, operation and maintenance. By evaluating soil conditions and measuring the system uniformity, flow rates and pressure, the PBSWCD can work with your community to solve common irrigation problems.
There are 58 soil and water conservation districts in Florida. The PBSWCD was established in January 1979 as a division of the State, under Florida Statutes 582. The PBSWCD services all of Palm Beach County as a Not for Profit 501(C)3. It does not levy taxes, issue bonds or have the means to enforce land use laws. Working with other agencies and local businesses, the PBSWCD is able to provide services at reduced rates and tailor programs to fit the needs of the community. For more information, contact the Palm Beach Soil and Water Conservation District at 561-792-2727 or email David DeMaio, Project Manager, at ddemaio@bellsouth.net.