In honor of the recent Florida Community Association Journal's "Women Making a Difference" issue we wanted to highlight a Campbell employee who was recognized in the past: Ashley Dietz Gray. Ashley is the Vice President of Marketing for Campbell Property Management and was featured in the FLCAJ's "Women Making a Difference" issue in 2021.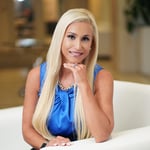 Ashley Dietz Gray, Vice President of Marketing
Ashley Dietz Gray has been handling the marketing at Campbell Property Management since 2013. She is a native Floridian who shines at building relationships and getting things done with a positive attitude. Ashley graduated summa cum laude from Florida Atlantic University with her bachelor's in communications. She has always believed "knowledge is power" and has made it Campbell's mission to offer free education through in-person events, webinars, and their blog, Florida Association News (FAN), to board members and property managers of condominiums and HOAs throughout Florida. Ashley has worked hard to spread the word about FAN, which currently has over 19,000 subscribers. To check out FAN and access all of Campbell's past and upcoming webinars, click here.