With the Florida weather pool maintenance is on our minds every season. Use these tips to help keep your home's pool in tip top shape.
Check the water level – Due to the summer rains, it is important to make sure that the water is at a safe water level. Make sure to drain the pool when necessary.
Remove debris – A quick way to keep your pool clean is by using a net to clean up debris, twigs and other things that might have fallen on your pool's surface. It is also important to clean the strainer baskets once a week.
Make sure to have the correct chemical levels – Having correct chemical levels helps decrease the chances of harmful disease and the amount of maintenance necessary. Be sure to test the water at least once a week for chlorine, calcium, P.H., and alkalinity.
Vacuum the pool – To keep the water clear, vacuum your pool every week. This also decreases the amount of chemicals that you need to add.
Shock your pool – Shocking is done by adding a large amount of chlorine to the pool. Increasing the chlorine levels will kill bacteria and odor. It is recommended to shock your pool every one to two weeks depending on how often the pool is used. If you have been making sure the chemical levels are good, shocking should not be needed as often.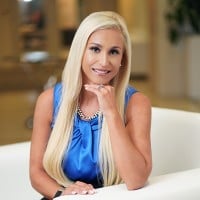 Ashley Dietz Gray, VP Marketing
I graduated Summa Cum Laude from Florida Atlantic University in 2010 with my BA in Communications. Upon graduating, I honed my skills in the field by working as a Media Assistant at WPBF-25 and at ESPN760. I began working at City County Credit Union in 2011 as the Marketing Coordinator. Currently, I handle the marketing at Campbell Property Management.