According to energy.gov, "A typical American family spends $2,000 a year on their home energy bills." By making your South Florida home energy efficient, you can cut your energy bills by 20 to 30 percent. There is also the added benefit of helping the environment by minimizing your carbon footprint.
Here are some ways to make your South Florida home more energy efficient:
Savings with little to no cost or effort:
Air Conditioning

Set your air conditioner to 78° F in the summer to save 5% on monthly cooling costs for each degree you turn it up. Try 82° F or warmer when away, and turn your thermostat fan to "auto."
Set your heat to 68°F in the winter to save 5% on monthly heating costs for each degree you turn it down. Try 65°F or cooler when you're away, and turn your thermostat fan to "auto."
Change your AC filters regularly to help your unit run more efficiently and maximizes the flow of air from the vents.

Fan Use

Turn off ceiling, bathroom and kitchen exhaust fans when you leave the room or after use.
Turn off your ceiling fan when you leave the room to save up to $85 annually per fan.
Set your fan to turn counter-clockwise in the summer - which blows air downward - and clockwise on lower speeds in the winter.

Seal your home for savings - control airflow and leaks.

Close windows and exterior doors tightly when your A/C or heater is running.
Caulk around windows, weather strip around doors if you feel a draft, and add door sweeps to the bottom of exterior doors.

Reduce your pool pump's run time by two hours or more a day to save up to $100 annually.

Limit your pool pump use to six hours or less per day in the summer and four hours or less per day in the winter.
Save more with minor upgrades:
Consider purchasing and installing a smart thermostat.

Average savings could add up to 3 percent of your total energy costs.

Save $80 per year when you replace old, high-flow showerheads with water-efficient showerheads.

This is the annual savings when two people per household shower using water-efficient showerheads.

Choose ENERGY STAR® -qualified appliances, electronics and lighting to save.

For example, ENERGY STAR-qualified clothes washers and refrigerators are about 20 percent more efficient than conventional models.
Compact fluorescent lamps (CFLs) and light-emitting diodes (LEDs) can save you 75-80 percent on lighting costs - with the same amount of light.
Each CFL can save you $50 in energy costs over the life of the bulb.

Control your indoor and outdoor lighting for savings.

Add motion detectors on outdoor lighting.
Try dimmer switches inside to match the lighting level to your need.

Install solar panels

Panels can be used to heat hot water or generate electricity. They can be expensive up front, but will help you to lower your energy costs over the long term.

Landscape with shade trees

Adding shade trees outside a large window can help block your home from strong light and keeps it cool.

Consider installing a variable speed pool pump to save about $300 a year.
Interested in learning more ways to reduce your home's electricity costs? Visit energy.gov for more information. Energy audits can also help homeowners figure out the most effective ways to reduce energy costs in their homes.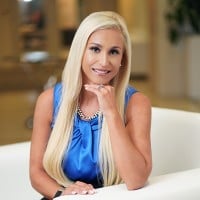 Ashley Dietz Gray, VP Marketing
I graduated Summa Cum Laude from Florida Atlantic University in 2010 with my BA in Communications. Upon graduating, I honed my skills in the field by working as a Media Assistant at WPBF-25 and at ESPN760. I began working at City County Credit Union in 2011 as the Marketing Coordinator. Currently, I handle the marketing at Campbell Property Management.