Jackie Witt is the President of the Winston Trails Foundation Master Association, an HOA of 1,891 homes in Lake Worth, Florida. Jackie has been on the Board for a total of five years, and she has held the role of President for the past three years. She has also served as Vice President of the Oakmont Village Board, which is a sub-association located in Winston Trails for the past eight years.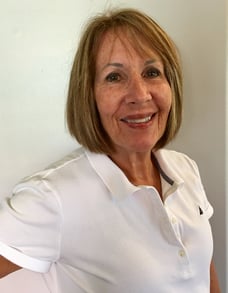 This past week, I spoke with Jackie to discuss her experiences working as the President of The Winston Trails Foundation Master Association:
Ashley: What do you like most about being on the Board?
Jackie: Most of all, working with the community. I enjoy meeting the residents here at Winston Trails, listening to their concerns and hearing them out about different issues that are important to them. I am a people person. Keeping our community safe and desirable is also what I love about being on the Board. I want the residents to feel safe and happy living at Winston Trails.
Ashley: Do you have any outside resources that you find valuable to your association and to you?
Jackie: We work very closely with Paula Rappold, our Property Manager to make sure that the Board is doing everything we can to keep the community safe, clean and so on. We have a very good relationship with Paula and the staff. I attribute that to Paula and her longevity at Winston Trails.
Some of the members are also part of the Coalition of Boynton West Residential Associations (COBWRA), and attend their meetings, which are an excellent resource. We also have a County Commissioner that lives in the community. Having all these resources helps us to hear about potential changes that could impact our community and gives us time to act on them before decisions are made. For example, we found out that the Solid Waste Authority (SWA) wanted to change to a one day pick up for wastes. The Board and the residents were very opposed to this, so we held a Board meeting to discuss the situation. COBWRA members and the County Commissioner attended the meeting and they listened to the resident's concerns. The community's opposition to the SWA's proposed waste pick up schedule contributed to the SWA not making any changes and we remained at a two-day pick-up schedule.
Ashley: Has your community gone through any rough spots, if so, how did you overcome these?
Jackie: Winston Trails is an aging community, I believe about 25 years old. So, we have had to identify and repair some infrastructure issues. Also, Board members can come and go due to individual life situations. There can at times be turmoil on Boards when it comes to dealing with those changes and trying to keep everyone focused and on the same page. We are all lucky, though, since we all get along and we all work together on the Board. That is one of the most important things in any community; the Board needs to work together for the benefit of the community.
Ashley: How does your community communicate with residents?
Jackie: Paula sends out communications via email to the residents within the community. We also communicate heavily through our Board meetings.
Ashley: What advice would you share with other Board members?
Jackie: When you get on the Board, don't personalize either the good or the bad you hear from the community. It is not towards you personally. Some residents are very passionate about what is going on, do not personalize anything negative directly. Most of all, work towards the greater good of the community and always keep the common good in mind.
About Jackie Witt:
Jackie was born and raised in Hollywood, Florida. She attended South Broward High School and then went to nursing school at Nova Southeastern University where she earned her bachelor's degree and her master's degree in nursing administration. After being a registered nurse for 35 years, Jackie is now retired. After marrying her husband, the pair moved to Alexandria, Virginia and stayed there for 11 years before moving back to Florida in 1978.
Jackie and her husband have been married for 50 years and have two daughters and four grandsons ranging in age from 6 to 17 years old. Jackie and her husband moved into Winston Trails in 2000 and are the original homeowners.
Jackie spends some of her time volunteering at the Palm Beach County Sheriff's office, as Volunteer Major for administrative special units. She is also proud to be part of the Citizens on Patrol Unit in Winston Trails. She, along with 14 "citizen observers," are members of unit 73 and regularly patrol the community.
Winston Trails has been with Campbell Property Management since 2001 and is managed by Paula Rappold.
"It is a pleasure to work for a Board of Directors lead by Jackie Witt because the focus is always on what is best for the Winston Trails community. Jackie loves to draw in homeowners using committees, so that those who want to have a voice can and will be heard," says Paula.
"Meet the Director" is an ongoing series where we recognize an outstanding Director from a community association in South Florida.
Serving on the Board of a Community Association is a challenging and often thankless job. There are thousands of dedicated volunteers in South Florida that have stepped up to lead their communities and we hope this series serves as a reminder to us all – to thank those that have invested their time and energy to make their communities a better place to live. ​
Ashley Dietz Gray, VP Marketing
I graduated Summa Cum Laude from Florida Atlantic University in 2010 with my BA in Communications. Upon graduating, I honed my skills in the field by working as a Media Assistant at WPBF-25 and at ESPN760. I began working at City County Credit Union in 2011 as the Marketing Coordinator. Currently, I handle the marketing at Campbell Property Management.