Has your condo association considered going smoke free? Smoke free policies are a growing trend as more and more residents are complaining about cigarette smoke drifting into their units. Smoke free policies reduce the risk of smoking-related fires and increase building safety for residents.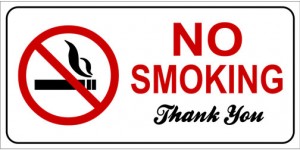 Many condo associations in Florida are adding a smoke free policy as a new amenity to provide clean air.
Other potential benefits of a smoke free policy include:
Improved health and comfort of residents
Reduced risk of fires
Higher property values
Lower cost of repairs and maintenance
Reduced premiums on some association insurance policies
If your condo association is thinking of going smoke free, check out this comprehensive guide from Tobacco Free Florida which outlines each necessary step to make your condo smoke free.
Ashley Dietz Gray, VP Marketing
I graduated Summa Cum Laude from Florida Atlantic University in 2010 with my BA in Communications. Upon graduating, I honed my skills in the field by working as a Media Assistant at WPBF-25 and at ESPN760. I began working at City County Credit Union in 2011 as the Marketing Coordinator. Currently, I handle the marketing at Campbell Property Management.