In 2019 almost 1/40 new cars sold were electric vehicles (EVs). This amount is expected to almost double by 2022, with EVs representing 1/20 new cars sold, ultimately reaching 1/5 in a decade. This trend is creating a need for a new amenity at condominiums: EV charging stations.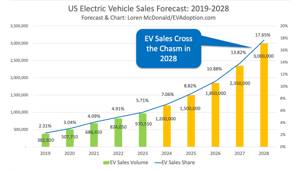 In Florida, condominium associations are required by law to accommodate an owner's request to enable EV charging, however, the cost for this accommodation can be charged to the owner. Read here for more information regarding the laws in Florida.
There are two basic approaches to addressing the need for EV charging stations:
A. Installing Shared Charging Stations – In a space that can be used by all on a first-come, first-served basis via a pay per use model. This is most practical when a dedicated parking area is available.
B. Installing Personal Charging Stations – Assigned to an owner's specific parking spot. Primarily used when the condominium has access-controlled garages, as opposed to an open parking area.
For this post, we will focus on how to install PERSONAL charging stations at your condominium association. Here are the steps from our experience:
Hire an electrician to find the right connection point and do the work correctly.
Decide where to install charging stations and whether to meter the individual stations or use a "standard cost per month" approach.
The condo's initial investment to set this up, could be $5K to $10K or more, so you will also need to decide how much of this cost to pass on to the actual users via an upfront fee and/or ongoing surcharge, which might also cover some of the ongoing maintenance requirements.
Once the central panel and sub-metering installation is complete, the association may determine how to charge owners who request a personal charging station. The association may charge the owner a base fee to recover initial costs, the cost to run power to the owner's outlet and the cost of the cable/connector. All work should be done by the condominium's designated electrician and billed back to the owner.
After installing an owner's charging station, the association may monitor their power usage on a monthly or quarterly basis which will be billed back to the owner. The condominium may also decide whether to include a surcharge on the electricity cost to cover maintenance and other costs.
EV's are catching on quickly and accessible EV charging stations at your condo can absolutely improve resale value.
Click here to view this Slideshare and others like it.
Is your condominium association prepared to accommodate unit owners who request EV charging stations? Please email adietz@campbellproperty.com if you would like a copy of a more detailed report including the average monthly cost of electric charging in South Florida.