Does your HOA or Condo have restrictions that prohibit owners from offering short-term rentals for their property? Some legislators want to strip that right away from Condo and HOA owners in Florida. Many owners bought into their communities with the understanding that it would not operate like a hotel, but be occupied by other fellow owners.
Here is a summary of what is happening on this subject.
Here is what you can do about it:
Contact your local legislator and encourage them to protect YOUR rights as an owner to not have your HOME turned into a HOTEL.
Here is a link to find your local representatives in the Florida House and Senate
Here is what Campbell is doing about this issue:
Campbell Property Management is a member of CEOMC, a group of Management Companies in Florida that have banded together to fight for legislation that will protect homeowner and condominium associations. One of the key initiatives we have been helping our communities with is the right of local municipalities and individual communities to restrict and/or regulate short-term rentals of homes. We focus our efforts through CEOMC, working alongside organizations like CAN (Community Association Network) who are spearheading the efforts in this specific area.
Here is a link to a blog post that describes how these organizations are working in this effort.
Here is a longer list of posts on this topic that we have included in our blog – Florida Association News, or FAN.
Also on this topic is a brief video that Campbell helped arrange with Representative Chip LaMarca, a leader in South Florida helping to protect our community associations against unrestricted short-term rentals, along with Mark Anderson, the head of CEOMC.
All of the above relates mostly to the past, when in fact, this fight has only just begun. Homeowner and Condo Associations across the state need to stay apprised of legislation that will be considered in 2020 and make sure to:
Work closely with your local representatives to educate them regarding the importance of this issue.
Join / contribute to organizations like CAN to help fight the short-term rental lobbyists -
Stay up to date with the legislation by subscribing to Florida Association News, or other publications.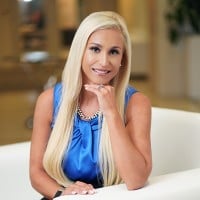 Ashley Dietz Gray, VP Marketing
I graduated Summa Cum Laude from Florida Atlantic University in 2010 with my BA in Communications. Upon graduating, I honed my skills in the field by working as a Media Assistant at WPBF-25 and at ESPN760. I began working at City County Credit Union in 2011 as the Marketing Coordinator. Currently, I handle the marketing at Campbell Property Management.