Cypress Head, a Homeowners Association in Parkland, with over 450 homes has, and always will be considered a high-end community with an understated elegance. In recent years, the Board of Directors have elected to renovate many of the amenities to bring them up to date. One of the amenities that was not up to par with Cypress Head's standards was their fitness center. A poll of the community indicated that most residents were in favor of enlarging the community's fitness center thus setting in motion their fitness center renovation project.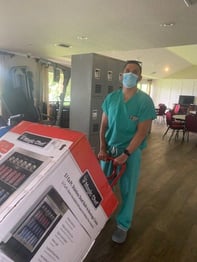 Prior to the renovation, the community had outgrown the fitness center and some of the fitness equipment no longer met the standards necessary. The fitness center took up half of the small clubhouse's space, while the other half remained largely unused by residents. Since the other half of the clubhouse was rarely used, it was decided that the fitness center would be expanded into the remainder of the clubhouse.
Once the gym renovation project was approved by the board there was a host of parties involved. Interestingly, the project was led and managed by one of Cypress Head's homeowners and well-known Orthopedic Surgeon, Dr. Jeremy Frank, who encouraged expanding the fitness center into the unused clubhouse space. The community's Property Manager, Lori Belfatto, also employed the help of a local architect, general contractor and a world class gym renovation company along with Cypress Head's gym renovation group.
The Board of Directors took advantage of the mandated amenity shut-down period during the COVID-19 pandemic to complete the renovation project while the facility was already closed. The contractor indicated that the project would take about 45 business days to complete. With that timeframe in mind, the Board began the project on June 8th in order to complete the work by the targeted opening date of August 7th. Subsequently, the renovation project was successfully completed on August 1st, allowing plenty of time for final touches.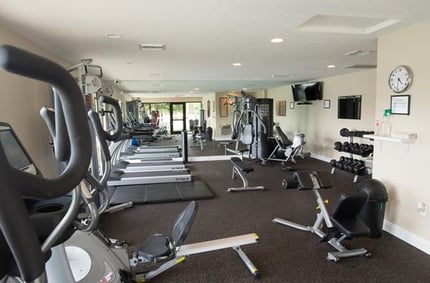 Upon completion, the fitness center more than doubled in size from 600 square feet to 1584 square feet. The updated facility was designed and constructed to best utilize the new expanded space and provide a modern functional gym that complimented Cypress Head's existing amenities.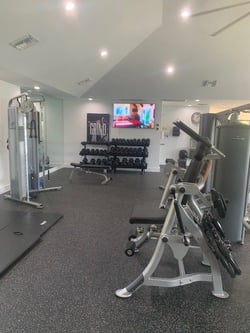 New equipment was chosen to complement the existing workout equipment by providing additional cardio, weight training and strength training machines, and a separate dedicated area for stretching. Residents now have the following machines to choose from: (3) treadmills, (3) ellipticals, (1) Step Master Climber, Les Mills Stationary bike, airdyne bike, recliner bike and an Octane dual resistance rower. There is a dedicated stretching area and ballet bar. Also added was a strength training section dedicated to free weights ranging from 5 to 75 lbs. Multi-functional trainers were added to complement the existing machines. Residents now have access to a pull up/chin up/dip assist machine, core ab machine, leg press, smith machine, heavy bag, battle ropes, resistance bands and kettle bells. The new fitness center has something for all levels of fitness in a new clean environment.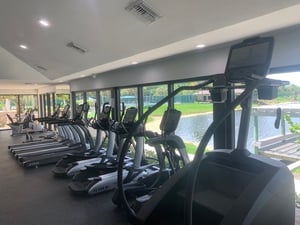 Many residents are finding the facility to be a better option and plan to cancel their memberships at outside commercial gyms. Cypress Head has also laid out specific guidelines to adhere to COVID-19 restrictions set by local government. Residents who enter the new fitness center must adhere to the following:
The Fitness Center is for Residents ONLY - 13 years of age and older.
No guests or personal trainers are permitted at any time.
All Residents must be registered and issued their own key fob.
Key fobs are not transferable and cannot be shared.
Masks must always be worn, including during cardio exercises.
We will be implementing a sign-in system to prevent groups of more than 16 people at one time. (50% building capacity)
Hands MUST be washed before and after using machines.
ALL equipment MUST be thoroughly wiped down before and after use.
Lori Belfatto, Dr. Frank, and the Cypress Head board have done an excellent job of planning and renovating their fitness center. The facility is now at the elegant standard which their residents expect and should act as an example for any community that is planning on renovating their current fitness center.