During a concrete restoration project at Highlands Place, the board of directors and property manager were presented with an opportunity to renovate their sundeck area. During the concrete restoration project, it was brought to the board's attention that the sundeck needed reinforcement for further structural support.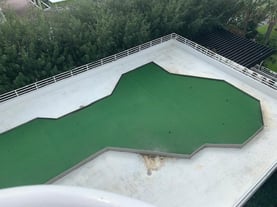 The board decided that it was an opportune time to revamp the underused and underappreciated sundeck and turn it into a desirable amenity for current and future residents. The existing sundeck at Highlands Place, a hi-rise condominium located in Highland Beach, was a rarely used concrete slab with a dated artificial putting green. On occasion some residents would lay out on a lounge chair, but that was the extent of the area's use. When the renovation project was put forth to the residents, there was some who thought the project was not necessary and there was some concern regarding increased activity from owners whose balconies were adjacent to the sundeck. However, these concerns were eased when the board decided on noise restrictions, restrictions of large functions, and restricting rental or reservations of the space. They argued that the space had always been there, so there should be a practical use for it.
The project was approved in early 2020 at which time the board and manager began working with a landscape designer to help them put together some ideas for the renovation. Once a clear idea was developed, the landscape designer put them in touch with an AstroTurf and tile company and helped them pick out different types of tiles for the sundeck. The construction then officially began in April of 2021 after the condo's seasonal construction moratorium ended.
The newly planned area was to have different sections, with different types of tiles with grey tones. In addition, there would be two areas with AstroTurf, 4 teal dividers to add a pop of color while providing separation of areas, new furniture that matched existing furniture near the pool for consistency, and 2 new "pergola" aluminum panel cabanas. The railing height around the sundeck also had to be raised to current code and was revamped to a drink rail system using engineered wood with an aluminum lip.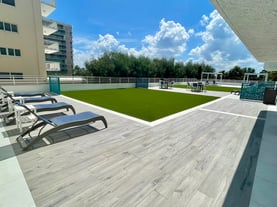 The sundeck renovation project was completed in September of 2021, just under 6 months after commencement. Thanks to the property manager, Heather and the board of directors, the new sundeck is considerably more appealing, is used more by the residents, and is likely to help increase property values. During the mornings, some residents come out to do yoga on the sundeck, while others sit outside and read throughout the day. On the weekends, many residents congregate on the renovated area to socialize, especially during season.
If you interested in viewing additional pictures of the renovated sundeck, please click here.