In our evolving digital landscape, modern communities often grapple with ever changing security and access challenges such as modernization, technology upgrades, and accessibility. One association, Huntington Pointe, a 55+ condo of 1,096 units located in Delray Beach, recently found itself at a crossroads when planning a clubhouse renovation. This provided the perfect opportunity to revamp their security and access control systems. The transformation was not limited to physical changes but represented a broader shift towards modernization and operational efficiency.
Addressing the Problem:
As a 55+ community, Huntington Pointe was on the lookout for a sophisticated yet user-friendly access control system that could meet their evolving needs. The traditional access methods, including key fobs and transponders, proved to be insufficient. Moreover, the community's multiple remote locations required a more agile and cloud-based solution. Huntington Pointe also had remote locations that needed monitoring without the complexity of a Network Video Recorder (NVR). In addition, the community aimed to enhance its security measures, but integrating various systems often brought complexity and challenges. The Board of Directors and residents were looking for modern, flexible, and convenient access solutions without involving external dependencies and high costs.
Fixing the Problem:
In their quest for the right solution, Huntington Pointe evaluated several options. Among them, Verkada quickly emerged as the preferred choice for addressing their unique challenges. Verkada's cloud-based solution offered seamless centralized monitoring across all remote locations without the need for hardware to format footage to a disk drive, USB flash drive, SD memory card or other mass storage device.
According to Liam Sweeney of Verkada, "a few value points for why Huntington Pointe and many other communities chose Verkada is to address false claims and store footage indefinitely to cloud-based archives timestamped to ensure usability in court, manage multiple properties and respond quickly to incidents from a simple mobile app or web browser, find, save, and share footage in seconds, secure parking facilities with real-time license plate recognition, easily search by plate number and receive Vehicle of Interest alerts, reduce the need for in-person guards with an integrated solution that detects and responds to threats quickly, and use your smartphone as a digital keycard."
Verkada's Face Detection feature was another way Huntington Pointe was able to increase their security capabilities with a user-friendly interface. Their cameras keep an ongoing log of faces that appear on recorded footage. Face detection can be used to log and track faces in case an incident occurs. This allows for instant video replay and the ability to view detected person trajectories for fast, efficient searching, especially with the latest generation camera models.
One of the consistent pieces of feedback from the Board post-implementation was their appreciation for the mobile access feature. It addressed their desire for a modern, flexible, and convenient access solution. Additionally, homeowners are happy with the RFID wireless access cards that make entering the amenities very easy. The system also offers an optional feature that uses face detection to opens doors, which is something the that can be considered for even easier access to the amenities.
Verkada's straightforward installation process, which just needed a POE switch and wiring made the transition easy. Huntington Pointe already had this wiring, as do most associations, so the full implementation took about one week. Verkada has a 30-day trial where they send equipment at no cost. See the photo of the pelican case the Property Manager received with the equivalent of a whole building system inside it—camera, alarm, emergency exit, keypad, electronic door lock, and fob reader.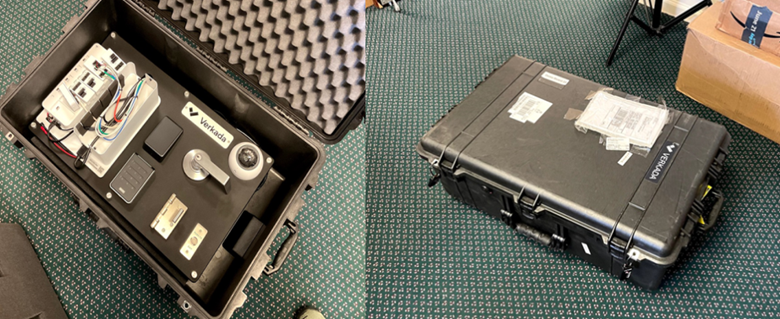 Results:
In essence, Verkada bridged the gap between Huntington Pointe's challenges and the modern solutions available in the market. The Property Manager of Huntington Pointe said, "Verkada is a very comprehensive, easy to use system that covers every need of a condo association to a clubhouse, from cameras, accesses control, motion sensors, intercom, and system package checking; it is a full system." The Board and the homeowners are happy with the cloud-based system with a user-friendly interface, along with the unique features it offers, effectively solving their access control issues.