The third component of the governing documents are the Bylaws. The bylaws, along with the Declaration and the Articles of Incorporation, establish the Governing Documents of the Association.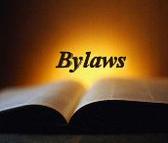 Bylaws define the way the association operates in regard to meetings, elections, quorums, other processes and the powers and duties of board members. The bylaws typically describe the association's rights or responsibilities to create committees and the process for how rules are made and amended.
By law, condominiums require that the bylaws must:
• Provide for the selection and removal of officers and directors and describe their powers and duties.
• Specify the quorum and voting requirements and provide for the use of proxies.
• Provide the requirements for board meetings.
• Provide for the requirements for meetings of the unit owners and for the election of directors.
• Provide for transfer fees if the association is empowered to charge a transfer fee.
• Contain provisions providing for fidelity bonds.
• Provide procedures for recall of board members.
• Provide for mandatory non-binding arbitration as defined by the statute.
The statute also provides that if any of the required provisions are missing, they are included automatically by reference.