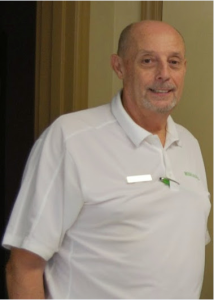 Douglas Crumpler is the President of the Inverrary Master Condo Association, which includes 28 sub associations comprised of 8,800 units on 1,000 acres in Lauderhill, Florida. Originally from Clinton, North Carolina, Doug attended East Carolina University obtaining his bachelor's degree in music education in 1964. Douglas spent the next four years in the Army's Airborne Band. Doug has had several careers throughout his lifetime including, scuba dive instructor for the YMCA, EMT, E.M.S Director and he owned Medstaff/ Health Innovations, in which he developed urgent care centers in the U.S., South Africa and Australia.
Doug moved to South Florida in 1978, and met his late wife, Treena shortly after. They married in 1981 and made Inverrary their home in 2001.
He has served as President of the Inverrary Master Association for five years. Prior to that, he served as President of one of the sub associations for six years, Environ Condo II, a 408 unit community.
Doug is a certified pilot and a "Son of the Civil War," where he takes part in recreating the Civil War. He has also started delving into his ancestry. He has a son, Brian and five grand kids: Sierra, Brandon, Sydnee, R.W. and Everett Lewis.
This past week, I had the pleasure of sitting down with Doug to discuss his experiences working as the President of Inverrary.
Ashley: What was the craziest experience you've had on the Board?
Doug: Definitely, Hurricane Wilma. This is actually how I ended up as the President of the Inverrary Master Association. The board was having a difficult time dealing with all of the disarray the storm caused, so they called me in. Hurricane Wilma showed our community that things were not being taken care of properly. And, all of our structural issues surfaced. We had $11 million in damage and put in a claim to our Insurance Company, which went bankrupt and we needed to finance a loan to pay for the damages. It was a very taxing experience, but it taught us the need to make sure we keep on top of all structural issues.
Ashley: Has your community gone through any rough spots? If so, how did you overcome these?
Doug: The housing crisis and subsequent foreclosure disaster really impacted our community. Many owners could not afford to pay their maintenance payments. This issue took a lot of creativity to solve. We worked with people to set up payment plans and some associations bought the foreclosures, renovated them and sold them to make their lost money back.
We also had some issues with burglary due to people gaining access to the community from the road by going through a defunct golf course. To combat this issue, we set up 16 wild game cameras along the border between the homes and the golf course. Right when the game cameras are triggered, I receive a text and a photo is sent to the guardhouse. Since, implementing this system, burglaries have dropped by 90%.
Ashley: How do you deal with unhappy residents?
Doug: I have made sure we have the correct processes in place. The most important thing is to know what you are talking about and have all the facts on issues that can cause tension in a community. This allows for you to set up the right plans and processes based on situations. A good example is emotional support animals. You need to know all the facts on what the law allows and what is required and have a process in place for dealing with this situation.
And, whenever you sit with a property owner, envision that you are sitting in front of a mirror. You are a property owner as well, so be amenable to them when coming up with a solution. If it were reversed, you would want a solution that worked for you.
Ashley: What piece of advice would you share with other board members?
Doug: Read and fully understand your docs. Not knowing your community's docs is the biggest mistake a board member can make. Also, be involved with your local fire and police departments. Don't wait for an emergency for them to be called to your community. Make a point to know them.
Inverrary has been managed by Anita Villalon of Campbell Property Management for 13 years.
"Douglas has seen the need for the association to keep a good relationship with the City of Lauderhill, which has grown over the years. Through his tireless efforts, all of the 28 associations support and respect Mr. Crumpler. He is a wonderful man who has done many great things for his community," said Anita.
"Meet the Director" is an ongoing series where we recognize an outstanding Director from a community association in South Florida.

Serving on the Board of a Community Association is a challenging and often thankless job. There are thousands of dedicated volunteers in South Florida that have stepped up to lead their communities and we hope this series serves as a reminder to us all – to thank those that have invested their time and energy to make their communities a better place to live.
Ashley Dietz Gray, VP Marketing
I graduated Summa Cum Laude from Florida Atlantic University in 2010 with my BA in Communications. Upon graduating, I honed my skills in the field by working as a Media Assistant at WPBF-25 and at ESPN760. I began working at City County Credit Union in 2011 as the Marketing Coordinator. Currently, I handle the marketing at Campbell Property Management.