If you own a home in South Florida, you should be preparing for the worst-case scenario regarding the upcoming storm. It may not impact your property, but you need to assume it will. The Board Members and Staff at Campbell managed properties will do everything in their power to keep your community and property safe in the event of a hurricane or tropical storm.
In addition to Management's preparations, there are some very important things you as a homeowner need to do and be aware of to coordinate with Management in preparedness.
OWNER'S RESPONSIBILITY
If you are out of town or physically unable to prepare your home for the storm -Find a hurricane caretaker who will be responsible for preparing your home for a hurricane. In a Condominium, make sure to inform the Property Manager of the caretaker's name and contact information. Management will not be able to check on individual units after a storm.
Close and securely latch hurricane shutters
Remove any free-standing furniture outside and on balconies/patios .
Close and firmly lock all doors/ sliding glass doors.
Prepare for loss of utility service – If you are out of town have someone empty your refrigerator and freezer. This IS NOT a service management can provide.
Turn off water valve (condos)
Prepare your disaster supply kit if not already done so. See below for helpful link for supply kit.
Take pictures of your unit/ home before the storm
Have an evacuation plan
We also highly recommend you download the hurricane preparedness guide for your County. This will help you understand the specific resources and services available in your local area.
If you want to know about the status of power at your address, please visit the FPL website below. Management needs to be mitigating any damage to the property and won't be field calls related to power status in the aftermath of a storm.
After the storm, Management will make an effort (conditions permitting) to mass email updates to all owners and let you know the general state of the Association common areas and when services (power, cable, and water) have been restored. Please understand that unit owners are each individually responsible for his or her own unit. In addition, we ask that you refrain from calling the property management company about the status of your unit – we will be working diligently getting your community back to normal.
MORE HELPFUL LINKS
Check your home/ condo for power - FPL
Hurricane preparedness - National Weather Service
NOAA - National Hurricane Center
Supply Kit - FloridaDisaster Division of Emergency Management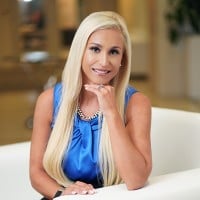 Ashley Dietz Gray, VP Marketing
I graduated Summa Cum Laude from Florida Atlantic University in 2010 with my BA in Communications. Upon graduating, I honed my skills in the field by working as a Media Assistant at WPBF-25 and at ESPN760. I began working at City County Credit Union in 2011 as the Marketing Coordinator. Currently, I handle the marketing at Campbell Property Management.