Larry Orbach is the President of the Seven Bridges Homeowners Association, a luxury community located in Delray Beach, Florida. Seven Bridges consists of 701 units and over 3,000 residents.
Originally from Pennsylvania, Larry attended Hofstra University in Long Island obtaining his bachelor's degree in Business Management. After, Larry worked several jobs, including computer troubleshooting, server management and commercial real estate before making his way to Miami for ten years, and then to Boca Raton in 2002. Prior to serving on the Seven Bridges Board, he served on boards at Woodfield County Club for 10 years.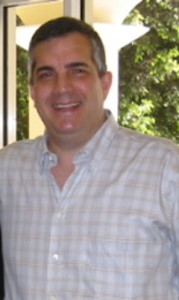 Larry has resided at Seven Bridges for five years since the development of the community. Prior to the Homeowners association taking over from GL Homes on August 1st, Larry was on the GL controlled Board for about three years.
What do you find to be the most challenging thing about being on the Board of Directors?
It is challenging to find good board members that will work with you, but not necessarily agree with you all the time. If you have a good board, your job is made much easier. Of course, it helps to have a good property management company, but with this being a volunteer job you must have good people working there. You find that when you have a good board, you find good people to work on committees, on the board, and to help since they know we are doing the right thing.
It must be challenging moving from another community and starting fresh on a new board. What steps did you take to make a successful transition?
Well I got onto social media, which I never used before to introduce myself to the community. I used Facebook a lot so that people got to know me and I made myself available to them while I was on the GL controlled Board. The biggest challenge we had here was changing management companies during the transition from developer to homeowners. It was very tough to do, and we took a big risk, but we had no choice due to various circumstances. Thankfully, Heidi and everyone at Campbell made our jobs a lot easier during a very stressful time. Our property manager, Heidi and her admin, Jennifer came over and have been very professional. They have worked hard to make things run smoothly. It all really starts with the manager. You can have a good management company, but if you don't have a good manager it is a tough struggle. Thankfully Heidi is one of the best, who I have known for 15 years since we were both at Woodfield.
Speaking of a difficult period, COVID-19 has created many
challenges for community associations. What kind of creative approaches has
Seven Bridges taken to keep the residents engaged?
We have a very good lifestyle director, Nicole who is an employee of Campbell. Nicole took over from the GL lifestyle director and has created many online activities, scavenger hunts, had ice cream trucks come in, and has done Amazon gift card giveaways to residents for sending in fun, home-made content. Nicole has done all of this to keep people happy, especially for those who have kids at home. She has done a great job working with the board on this. We even had a big parade with fire trucks and golf carts driving down the community roads. I dressed up as the Stay Puft Marshmallow man from Ghostbusters and Nicole's husband dressed up as Chewbacca while we were on the top of the firetruck. It was just a fun thing to get the kids excited and get everyone out of their funk. We have been trying to do as many events as we can and have been opening as many amenities as the law allows while still social distancing. It is a big challenge. We want people to be safe, but we also want to make them happy. We have opened our gym, which is a smaller gym, but we do it by appointment only and take temperature checks before entering. It is a family-oriented community here and we have done a lot to keep everybody busy and as happy as we can.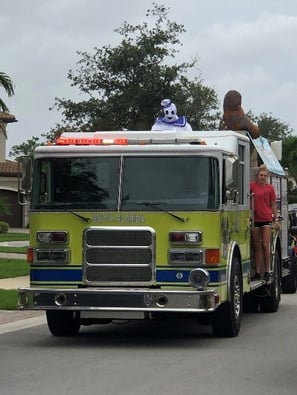 Is there any advice you would give to those who are on the Board for the first time or who are transitioning to another board as you did?
I usually suggest if you are going to go onto a board, to get on a committee first and go to meetings to learn what is going on. You really must be sitting at board meetings for at least a year, see what's going on in the community, and get on to a committee first. Put your time in so that when you get onto the board you have some experience on your resume. I think it is a mistake to go straight onto a board. I think you must learn things from committees or by attending meetings if you are not on a committee.
"Meet the Director" is an ongoing series where we recognize an outstanding Director from a community association in South Florida.
Serving on the Board of a Community Association is a challenging and often thankless job. There are thousands of dedicated volunteers in South Florida that have stepped up to lead their communities and we hope this series serves as a reminder to us all – to thank those that have invested their time and energy to make their communities a better place to live.
Ashley Dietz Gray, VP Marketing
I graduated Summa Cum Laude from Florida Atlantic University in 2010 with my BA in Communications. Upon graduating, I honed my skills in the field by working as a Media Assistant at WPBF-25 and at ESPN760. I began working at City County Credit Union in 2011 as the Marketing Coordinator. Currently, I handle the marketing at Campbell Property Management.