Gary Sheres is President of the Woodfield Country Club Master Association, which includes 20 sub-associations consisting of 1,297 homes in Boca Raton, Florida. Woodfield Country Club has approximately 3,500 residents. Originally from Montreal, Gary moved to Woodfield with his parents and brother, who all still reside in the community in August of 1992. After some time away for school and work, Gary returned "home" to Woodfield 5 years ago with his children (Tara and Lindsey), and his wife (Karen), who also grew up in Woodfield.
Shortly after returning to Woodfield, Gary felt that certain things needed to be improved in his neighborhood and he joined the Hamilton Place sub-association Board of Directors. Only twelve months later, he joined the Woodfield Master Association Board. At the end of 2020, Gary will have completed his third year on the Master Association Board and fourth year on his sub-association Board.
This past week, I sat down with Gary to discuss his experiences working as President of the Woodfield Country Club Master Association:
What do you enjoy most about being on the board?
The enjoyable part of being on the board is witnessing the inner workings of a master association and being able to create positive change that most homeowners are not aware of. People often ask, "What are you really doing?" It may not always be obvious, but I like to know that I am working to improve the community for my family, friends, and neighbors.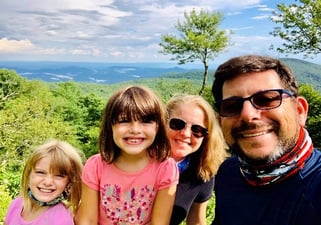 What kind of challenges do you face being the President of a Master Association? ​
As President of my sub-association and President of the Master HOA, I must approach all situations from a neutral unbiased perspective. I cannot take anyone's individual interest or sub-association's interest above another. We must always treat everyone fairly and equally. Most members of the Master Association are also members of their sub-association boards, so it is a challenge we all face.
How has the Board dealt with the COVID-19 challenge at Woodfield?
Woodfield HOA has no amenities of our own. We are a Country Club community; all amenities fall under the Country Club's control. While we have open lines of communication with the club and a strong working relationship, we have not had the tough job or responsibility of closing or operating facilities during the Covid-19 pandemic. Some sub-associations control their own pools and playgrounds, but of course that does not fall under the Master Association purview as they all have their own management teams. In response to the pandemic, we have had to close our HOA office to all foot traffic. This has propelled us to find new ways to conduct business remotely while still delivering the same high level of customer service and support our homeowners expect.
What has been your proudest achievement during your time on the Board?
Improving our strong working relationship with our Campbell staff who are responsible for running our community every day, and a rejuvenated security team are my proudest achievements thus far. Safety and security are always a high priority to residents living in gated communities. Our Residents expect a certain level of protection and professionalism. We have one of the best security teams in the area and I am proud that we built it up so well. The key is our solid partnership with Campbell and Titan International Security. If an issue arises, we all work together and get it solved. We have accomplished a lot in the past 3 years, but there is always more to be done. Our goal is to make all our neighbors proud of the community they live in. That is what is most important!
What advice would you share with other Board members?
Each member of a board comes with a unique set of skills, experiences, and knowledge. Working together as a team enables us to come together and create the best result for our community. I do not feel I can advise others how best to keep their community strong, but I do believe it is imperative to work cohesively and truly listen to each person's viewpoint.
Although, I am currently the president of the HOA, I am only 1 vote out of 8 or 9. The title of president does not give you any intrinsic special powers. Therefore, working with other board members and listening is essential to getting things done. One of the hardest things to understand, especially for businesspeople is that there must be a certain level of respect even when you disagree with someone. In the end, you are all neighbors, not co-workers. I highly suggest those wanting to join the Master Board should get involved with their sub-association and Master sub-committees so they can get an understanding of how things really work and why.
One of the most important things is having a really good management staff. We as Board members are not paid for these jobs and it takes a lot more time than one might anticipate to do things correctly. Without a solid management team and the corporate back-up; the work would be overwhelming. Thankfully with the Campbell staff we have a great team.
What major projects has Woodfield done in the past year.
Recently, we have focused a lot of our energy on improving the technology available to our security team. We have installed a new antenna and distributed upgraded radios to our security personnel. We have equipped all our roving vehicles with the WatchGuard system which includes body cams and automatic recordings. Each unit has also been provided dedicated tablets that serve as mobile workstations and reduce our reliance on paper reports. Over the last two years due to technology and policy improvements, we believe we have set our security team up for success in every possible way, and ultimately have created a better and safer community for our residents.
"Meet the Director" is an ongoing series where we recognize an outstanding Director from a community association in South Florida.
Serving on the Board of a Community Association is a challenging and often thankless job. There are thousands of dedicated volunteers in South Florida that have stepped up to lead their communities and we hope this series serves as a reminder to us all – to thank those that have invested their time and energy to make their communities a better place to live.
Ashley Dietz Gray, VP Marketing
I graduated Summa Cum Laude from Florida Atlantic University in 2010 with my BA in Communications. Upon graduating, I honed my skills in the field by working as a Media Assistant at WPBF-25 and at ESPN760. I began working at City County Credit Union in 2011 as the Marketing Coordinator. Currently, I handle the marketing at Campbell Property Management.