On the market for a home covered from head to toe in beer cans? A home for sale in Lake Worth has been lined with Budweiser beer cans from the ceilings to the master closet, with the exception of the bathrooms. The owner, who since passed away was a lifelong Budweiser beer fan and made it his mission to wallpaper his home in beer cans.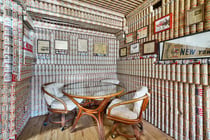 Click here to see more pictures of the home on the listing site. The pictures began to get shared so much online that Budweiser took notice and posted about the condo on their Facebook account!
Ashley Dietz Gray, VP Marketing
I graduated Summa Cum Laude from Florida Atlantic University in 2010 with my BA in Communications. Upon graduating, I honed my skills in the field by working as a Media Assistant at WPBF-25 and at ESPN760. I began working at City County Credit Union in 2011 as the Marketing Coordinator. Currently, I handle the marketing at Campbell Property Management.