Like many communities, Pineapple Grove Village had not held any social gatherings since the pandemic began. Health restrictions and a high turnover of owners and renters over the past few years meant that many residents did now know one another or had lost touch. This led to the decision by the board of directors to sponsor a social event so that neighbors could have a chance to meet one another and reconnect.
Pineapple Grove Village is a 3-story condo/townhouse complex in Downtown Delray with 160 units. The property manager and the board had many considerations when planning this party for the community. The main decisions to be made included:
the party theme,
if it would be limited to only owners or all residents,
who would provide the food and drinks,
if there should be a cost per attendee or be association funded plus
the time, location, and budget for the party.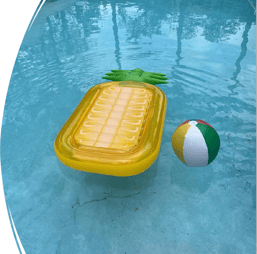 After some thought, the property manager and board decided that the party would be open to all active residents (owners and renters) and would be a luau/pineapple theme located at the community clubhouse/pool area with flower decorations and lei. The party would be association funded and partly sponsored by vendors with a budget of about $2,000. They had a catering company provide Hawaiian barbeque type food including pork, chicken, and sides, as well as large fruit platters and cookies for dessert. The association provided sodas and water and rented a margarita machine, though asked residents to being their own liquor to top off the margaritas.
The party took about a month for the property manager to plan, with some help the day-of by resident volunteers. Many of the residents at the community are snowbirds, so the party was announced in early March and held on a Saturday in early April before those residents began going home.
It was a tremendous success. Of the 160 units in the community, 105 people RSVP'd and approximately 75 people attended the party. With a $2,000 budget, it was only about $30/person for the event. The "big hits" of the party were the margarita machine and a large inflatable pineapple that was in the pool. Overall, the residents who attended loved it and only had positive feedback.